Downloads
Getting up and running with KeyStore Explorer is quick and easy. There are packages for all common operating systems.
Latest Release
| Platform | File | Details |
| --- | --- | --- |
| Windows | kse-544-setup.exe | The Windows installer requires Administrator privileges. Parameters: /S for silent install, /D=<install dir> to specify the installation directory and /AllUsers to install for all users instead of only for the current user |
| Mac | kse-544.dmg | Double-click the disk image to mount it, then drag KeyStore Explorer to the Applications folder. The application bundle contains a custom Java runtime. |
| Linux | kse_5.4.4_all.deb | DEB for Ubuntu/Debian/Mint etc. |
| Linux | kse-5.4.4-1.noarch.rpm | RPM for CentOS/RHEL/Fedora etc. |
| All | kse-544.zip | ZIP with kse.exe for Windows and kse.sh for Linux/macOS, see included readme.txt for more infos. |
Older Releases and Source Code
The source code of KeyStore Explorer and older releases since v5.0 are available here: KSE Releases on GitHub
Download Java Runtime Environment
A Java Runtime Environment (JRE) Version 8 or above is required to run KSE. The latest JRE can be downloaded for example from the AdoptOpenJDK project site.
Please note that under Windows the proper registry entries have to be created by the AdoptOpenJDK installer: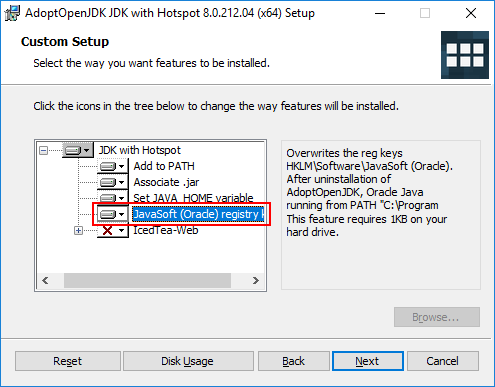 ---